Small farmers often sell their hogs or cows by the eighth, or quarter, or half…but what does that even mean? What does it look like? Do you need to buy an extra freezer to store all that meat?
Jason Johnson from Lucky George Farm explains the details of buying in bulk from small farmers using a couple of his farm's bundles as an example.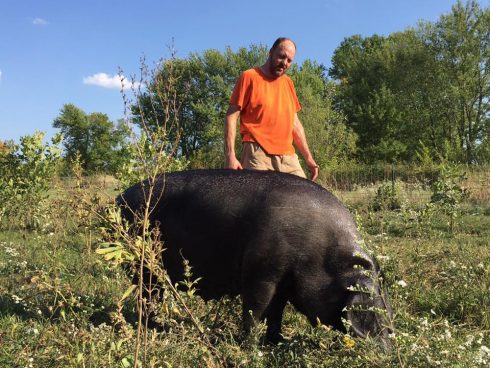 Lucky George Farm lists several bundles through the Co-op website, including their popular eighth + quarter bundles.
| | |
| --- | --- |
| 1/8   (18 lbs): | 1/4  (36 lbs): |
1 Ham Roast (3 lbs)
1 Shoulder Roast (2.5 lbs.)
4 Pork Chops (2.5 lbs.)
St Louis Style Ribs or Pork Hock (2lbs)
Bacon (2 lbs.)
Ground Pork (2 lbs.)
Bulk Pork Sausage (2 lbs.)
1 Quart Fully Rendered Lard (Total Weight 2 plus lbs.)


---

 2 Ham Roasts (6 lbs.)
2 Shoulder Roasts (5 lbs.)
8 Pork Chops (5 lbs.)
St Louis Style Ribs (2 lbs.)
Bacon (4 lbs.)
Pork Hock (leg portion, 2 lbs.)
Ground Pork (4 lbs.)
Bulk Pork Sausage (4 lbs.)
2 Quarts Fully Rendered Lard (Total Weight 4 plus lbs.)


---

VALUE: $175

---

VALUE: $300

---

SALE: $125

---

SALE: $225

---
The eighth will definitely fit in a standard over-the-refrigerator-freezer and the quarter will, if the freezer isn't already packed.
"These bundles allow a savings over buying by the per cut price without having to buy a whole or half pig."
Jason says, "The purchase of these bundles supports the farmer, because it honors the harvest of the animal in a manner that is sustainable for the small farmer where all the cuts are valued and used, as opposed to the commercial model where the choice cuts like pork chops or pork loin and bacon are "farmed" off and the rest of the animal is turned to ground pork, or more likely some form of sausage…or made into highly-processed pork products."
"Lastly, it honors the animal in using all of its parts which it lost its life to provide.  It is not that much unlike Native Americans that would use every part of the animal, and let nothing go to waste."
"Food is most certainly sustenance, but in a successful society,  it is not merely that.  Food is connection, to the land, to the farmer, to the earth."
Thanks, Jason!
See Lucky George Farm's bundles by clicking here. See other meat bundles here.