2023 Iowa Food Cooperative Board Members​
President Jason Jones, Producer: Star Grass Farms
VP of Producers Andrew Joseph and Catherine Rihm, Producer: Meadow BlazingStar Honey
VP of Consumers TJ Gardner, Consumer
Treasurer Andrew Bassman, Consumer
Secretary Brant Kassel, Consumer
Lisa Bean, Consumer
Daniel Bowser, Consumer
Inger Lamb, Producer: Prairie Landscapes of Iowa
Vernon Kelly, Producer: Grand River Family Farms
Janine Robertson, Producer: Knob Hill Farm
Eileen Wuebker, Producer: Crescentia Farm
We would also like to recognize our founding members for their support to help with our launch back in 2008.
Linda and David Gobberdiel, West Des Moines
Carolyn and Andy Ross, Ogden
Ken and Jeanne Henrichsen, Winterset
Gary and Penny Huber, Maxwell
Linda Appelgate, Des Moines
The Homestead Living and Learning Center, Pleasant Hill
Robb Origer and Rachel Bandy, Des Moines
Char Kimball, Johnston
LaVon and Craig Griffieon, Ankeny
Brian and Julie Donaghy, West Des Moines
Angie and Kelly Tagtow, Elkhart
Rebecca and David Sidney, Runnells
CoryAnne Harrigan and Patricia Calkins, Indianola
Julie and Chris Nelson, Johnston
Aaron and Nichole Heley Lehman, Polk City
Beth Henning, Des Moines
Tom and Mary Cory, Elkhart
Wheatsfield Cooperative, Ames
Brandon and Anne Burnett, Norwalk
David Couch and Lori Schirmer, West Des Moines
Michael Coyne and Peggy Russell, Des Moines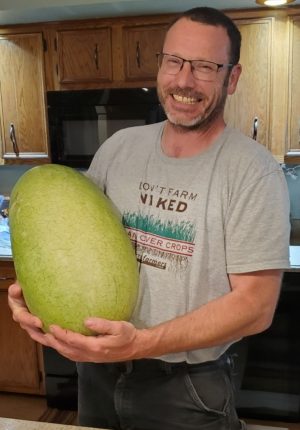 Greetings fellow co-op members. I wanted to share a personal experience with you that made me appreciate everything the co-op is. I was recently contacted by a company inquiring about my interest in selling my Certified Organic produce through their online store. Let me first be clear, I don't begrudge any farmer who is trying to make their farm profitable and using any, and all marketing opportunities to do so. I thought about whether it would be a good fit for my business and ultimately decided it wasn't. There are a couple of reasons for this, with a large one being that the company is an out of state entity. To me this company is akin to being the "Uber" of "local food." Just another tech company focusing on a technological solution to local food procurement and delivery. Who can blame them? The pandemic has certainly created reasons for more of us to think about where our food is coming from and a desire to get more of it locally. Alas, these new companies are a little late to the game. The IFC has been doing this since 2008!
The largest reason for that company not being a viable option for my farm is the lack of the connection between my farm and the person purchasing my goods. It is very important to me that there are people who have been buying my produce through the co-op since its inception. They, along with you, have helped my farm and the local food economy grow. Could this be accomplished with the other company? Possibly, but would I ever get the chance to connect with my customer – to foster a community relationship? I don't know. Fortunately, I don't have to look somewhere else for that connection because it already exists here at the Iowa Food Cooperative. A community resource built by this community. How awesome that is!
The IFC is far from done. While the pandemic has impacted the co-op operationally and forced us to adjust and adapt, we've really missed the connections and relationships that the IFC has helped to build. With that in mind, we are working diligently to make those opportunities possible again.
The mission of the Iowa Food Co-op is to connect Iowans to their food. We do it locally. We do it cooperatively. We do it for, and as a part of our community.
– Jason Jones