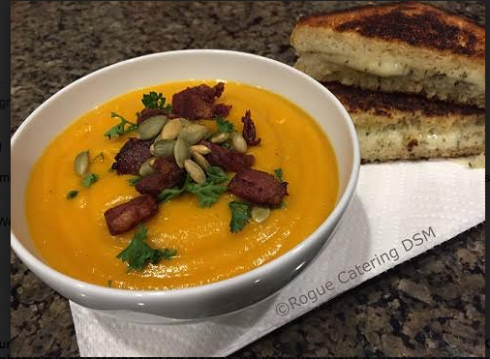 Roasted Butternut Squash Soup
Author:
This soup has been taste tested and raved about!
Ingredients
1 cup chopped yellow onion
¾ cup chopped celery
¾ cup chopped carrot from Country Roads Produce
8 cups cubed butterkin squash from Glenwood Century Farm or any winter squash
1 large Granny Smith apple, cubed
4 cups of chicken or vegetable broth
6 pieces of bacon from Griffieon Family Farm, fried and crumbled
2 TB butter
2 TB Olive oil
4 TB chopped parsley
¼ cup roasted pepitas
2 TB whole milk from Radiance Dairy
¼ tsp ground nutmeg
¼ tsp cinnamon
¼ tsp cayenne pepper
¼ tsp salt
¼ tsp pepper
Instructions
Preheat oven to 500 degrees.
Toss squash with olive oil and spread onto a rimmed cookie sheet.
Roast for 10 minutes.
Heat a large, heavy pot on medium-high heat. Melt butter in the pot and let it foam up. Add the onion, celery, and carrot. Sauté for 5 minutes. Lower the heat if the vegetables begin to brown.
Add the squash, apples broth, and spices to the pot and bring to a boil. Lower heat to maintain a simmer. Cover and simmer for 30 minutes.
Purée the soup using an immersion blender, or transfer to blender and purée in batches.
Blend in the milk.
Serve garnished with parsley, pepitas, and bacon crumbles.
I served it with a grilled cheese made with Farmhouse White Bread from The Wooden Bakery and Herbs de Provence Gouda cheese from Frisian Farms Cheese.