A stuffing recipe that not only highlights local bread, butter, and sausage, but also local apples!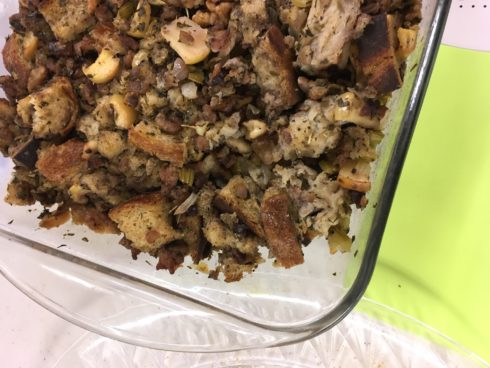 Apple Sausage Stuffing
Author:
Ingredients
10 cups bread, cut into 1/2 to 1 inch cubes (Cook's choice: white, whole wheat, sour dough, rye, a mix. Leave the crust on or don't. Live your best stuffing life)
1 tablespoon olive oil
1 pound ground pork
6 tablespoons unsalted butter
2 cloves garlic, minced
1 onion, diced
1 1/2 cups sliced celery
2 apples, cored and chopped coarsely (peel or don't. It bears repeating, live your best stuffing life)
2 tablespoons finely chopped fresh sage
1 tablespoon finely chopped fresh thyme leaves
1 cup toasted walnut pieces
1/2 cup finely chopped fresh parsley
Kosher salt and freshly ground black pepper, to taste
2 1/2 cups chicken stock
Instructions
Preheat oven to 350 degrees F. Lightly oil a 9 x 13 baking dish or coat with nonstick spray.
Spread bread cubes in a single layer on a baking sheet. Place into oven and bake until crisp and golden, about 10-12 minutes; set aside.
Heat olive oil in a large skillet over medium heat. Add pork and cook until browned, about 3-5 minutes, making sure to crumble the sausage as it cooks. Remove pork from skillet and place in a bowl.
Melt butter in the skillet the pork was cooked in. Add garlic, onion and celery, and cook, stirring occasionally, until tender, about 4-5 minutes. Stir in apples, sage and thyme until fragrant, about 1 minute.
In a large bowl, combine bread, sausage, apple mixture, walnuts and parsley; season with salt and pepper, to taste. Stir in chicken stock until absorbed and well combined
Spread bread mixture into the prepared baking dish. Place into oven and bake until top is browned, about 45 minutes.