Another winning recipe from Robin–butternut squash is in season now and the forecast keeps promising cooler temps!
For this recipe you'll need the following local ingredients: butternut squash, heavy cream, butter, onion, and fresh parsley. All are available now!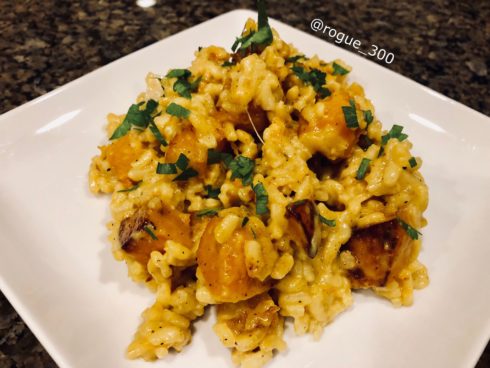 Butternut Squash Risotto
Author:
Butternut squash risotto–with vegan alternatives!
Ingredients
3/4 to 1 lb. Cubed butternut squash
3 TB Butter (or Earth Balance Butter Substitute)
1 TB Olive Oil
½ tsp Kosher Salt
Black Pepper To Taste
1/4 tsp Chili Powder
1/2 cup Diced onion
1 1/2 cup Arborio rice (use actual arborio for an authentic risotto)
6 cups Vegetable broth
Salt And Pepper, to taste
1/8 tsp Turmeric
1/4 cup Heavy cream (or 2 TB soy/cashew milk, unsweetened)
1/2 cups Shaved parmesan (or your favorite vegan cheese such a parmesan, mozzarella)
Finely Minced Parsley, For Serving
Instructions
Heat 1 tablespoon butter and olive oil in a large skillet over high heat. Add squash and sprinkle with salt, pepper, and chili powder. Cook for several minutes, turning gently with a spatula, until squash is deep golden brown, with some darker bits and tender (but not falling apart.)
Remove to a plate and set aside. While the squash is cooking, heat the broth, in a saucepan, over low heat and keep warm – it's important to only add warm broth to risotto, otherwise it is a constant start/stop with the cooking and will be a grainy consistency to the rice.
Add the remaining 2 tablespoons butter to the same skillet over medium-low heat. Add onions and cook for 2 to 3 minutes, or until translucent. Add Arborio rice and stir, cooking for 1 minute.
Reduce heat to low and stir in the turmeric. In 1-cup increments, begin adding broth to the skillet, stirring to combine and gently stirring as the broth is absorbed. As soon as the liquid disappears, add in another cup of broth. Continue this process, stirring gently as the broth incorporates and the rice starts to become tender. Add salt, pepper along the way. You do not have to constantly stir the rice, just keep an eye on it.
Taste the rice after about 5 cups of broth have been absorbed to check the consistency – it should be tender, with just a tiny bit of bite left in the center. Add another 1/2 cup of broth and continue the process until the rice is the consistency you want.
When the rice is tender, add in the cooked squash, gently stirring to combine it, followed by the cream and Parmesan, stirring until just combined. Taste and add more salt and pepper as needed.
Serve with a sprinkle of minced parsley.