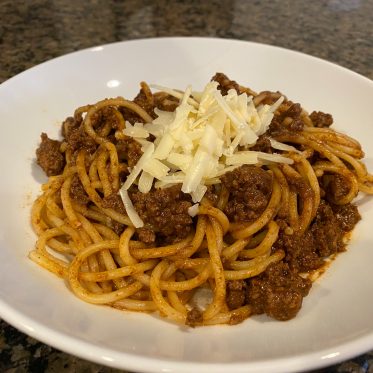 Cincinnati Chili
Let's talk chili, Cincinnati chili, in particular. When I explain this particular chili to folks, I start by saying it's not the reddish, tomato-based Tex-Mex chili they're used to eating; it's best to think of Cincinnati chili as a mole of sorts since it contains both chocolate and cinnamon. Yes, I know that seems like an odd thing to put on spaghetti or hot dogs, but trust your Recipe Lady on this one, it just works and it works well.


How did this strange dish come to be?


The history of Cincinnati Chili – a heart felt story of two Macedonian refugees who fled to America from Argos Orestiko in order to escape the Balkan Wars in 1921: Macedonian immigrant Tom Kiradjieff created Cincinnati chili in 1922. With his brother, John, Kiradjieff opened a small Greek restaurant called the Empress. The restaurant did poorly however, until Kiradjieff started offering a chili made with Middle Eastern spices, which could be served in a variety of ways. He called it his "spaghetti chili." Kiradjieff's "five way" was a concoction of a mound of spaghetti topped with chili, chopped onion, kidney beans, and shredded yellow cheese, served with oyster crackers and a side order of hot dogs topped with more shredded cheese.


The 'ways' of the chili:


Two-way: spaghetti topped with chili

Three-way: spaghetti topped with chili and shredded cheddar

Four-way: spaghetti topped with chili, cheese, and chopped onion

Five-way: spaghetti topped with chili, cheese, chopped onion, and beans


For a Cincinnati coney, substitute a hot dog in a bun for the spaghetti



*******************

IFC Ingredients:
Ground beef
Cheddar cheese
Onions
Crushed red pepper
Hot dog buns
Hot dogs
Ingredients
1

lb

ground beef

1/2

TB

vegetable oil

1/4

cup

chopped onion

2

TB

chili powder

1/2

tsp

ground cinnamon

1/2

tsp

ground cumin

1/8

tsp

ground allspice

1/8

tsp

ground cloves

1

bay leaf

1/4

ounce

unsweetened chocolate

about 1/2 of a square of baker's chocolate or 3/4 tsp of cocoa powder

1 1/4

cups

beef broth

8

oz

tomato sauce

1

TB

apple cider vinegar

1/4

tsp

crushed red pepper flakes or 1/8 tsp ground cayenne pepper
Toppings:
Shredded cheddar cheese

Diced onion

Cooked kidney beans
For serving: cooked spaghetti or hot dogs
Instructions
In a large saucepan over medium heat, add oil and onions. Cook, stirring frequently, until tender, about 6 minutes.

Add beef, breaking up with a wooden spoon. Stirring frequently, cook until browned.

Add chili powder, cinnamon, cumin, allspice, cloves, chocolate, beef broth, tomato sauce, cider vinegar, and red pepper. Stir to mix well. Bring to a boil. Add the bay leaf and reduce heat to low. Cover and simmer for 1 1/2 hours, stirring occasionally.

Remove bay leaf and serve over cooked spaghetti with the toppings of your choice, or on hot dogs.
Notes
Leftovers can be stored in an airtight container in the refrigerator for 4 days; or, frozen in an airtight container for up to 9 months.