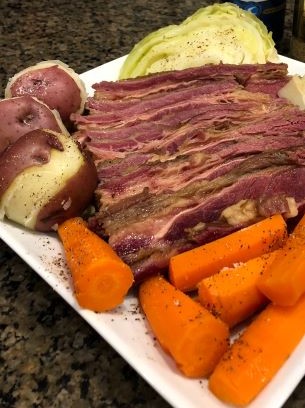 Corned Beef and Cabbage
Corned beef and cabbage – ah, the quintessential Saint Patrick's day fare! With this easy recipe, there's no need to shy away from making this staple at home. The brine does all the heavy lifting, and since it can cure in as little as 2 days (though 4 is much better) it doesn't require too much advanced planning. So pull up a stool, breakout the shamrock's and enjoy this dish at home.
Ingredients
1

flat cut beef brisket

2 – 5 lbs

3/4

cup

table

kosher, or pickling salt

1/2

cup

packed brown sugar

2

tsp

pink curing salt #1

6

peeled garlic cloves

divided

6

bay leaves

divided

5

allspice berries

2

TB

peppercorns

divided

1

TB

coriander seeds

1 12

oz

bottle of stout beer

6

carrots

peeled, halved crosswise, thick ends halved lengthwise

1 1/2

pounds

small red potatoes

unpeeled

1

head green cabbage

uncored, cut into 8 wedges
Instructions
To cure the beef: Trim all but 1/8″ of fat from the outside of the brisket. Add 4 quarts of water to a large container (should be large enough to completely immerse the brisket). Add the curing salt, salt, and brown sugar – stir until everything is dissolved. Add 3 garlic cloves, 4 bay leaves, allspice berries, 1 TB of peppercorns, and coriander seeds to brine. Add the brisket and weigh it down with a heavy plate. Cover and refrigerate for 2 to 6 days. The meat will turn gray on the outside, but will change to pink when it's cooked.

Preheat oven to 275 degrees. Remove beef from the brine and rinse. Make a spice bundle by stacking 3 8″ squares of cheesecloth and placing 3 garlic cloves, 2 bay leaves, and 1 TB of peppercorns in the center. Tie the bundle securely with kitchen twine. Place the brisket, spice bundle, beer, and 1 1/2 cups of water in a heavy dutch oven. Over high heat, bring everything to a simmer; cover and transfer to the oven. Bake until a fork easily slides into the meat – about 2 1/2 hours to 3 hours.

Remove the brisket to heat safe, covered, baking dish, and add 1 cup of cooking liquid. Transfer to the oven to keep warm.

Add a steamer basket to the Dutch oven and place over high heat. Once the liquid is boiling, reduce heat to medium-low and add potatoes. Cook for 5 minutes, covered. Add the carrots and cook, covered for another 5 minutes. Add the cabbage wedges and cook for another 10 – 15 minutes, or until the cabbage is cooked through.

While the cabbage is cooking, slice the beef, across the grain in 1/4″ – 1/2″ pieces. Transfer to a serving platter and slightly moisten with cooking liquid. Transfer the cooked vegetables to the platter; season with salt and pepper to taste.
Notes
Serve with mustard or Irish soda bread for an authentic Saint Patrick's Day meal.