Don't let grilling season pass by without trying this simple but flavorful recipe–give lamb steaks a try and season it with fresh Iowa garlic + rosemary.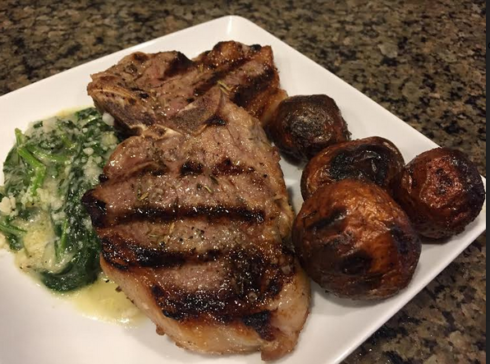 Grilled Lamb Steaks
Author:
Ingredients
1 lb lamb chops/steaks
2 TB fresh rosemary, minced
1 1/2 tsp salt
1 tsp ground black pepper
1 clove garlic, minced
2 – 4 TB olive oil, divided
Instructions
In a small bowl, mix the rosemary, salt, pepper, and garlic with 2 TB of olive oil.
Rub the mixture onto the lamb, massaging it in. Cover and let stand at room temperature for 30-45 minutes.
If you're cooking the lamb on the stove, heat 2 TB of oil in a heavy skillet over high heat. Alternately, you can cook them on the grill with high heat. Cook 2 minutes on each side for rare, or 3 minutes per side for medium rare.
Remove from pan (or grill) to a room temperature plate, cover, and let rest for 5-10 minutes.