Another terrific recipe from IFC Recipe Wizard (and volunteer/board member), Robin!
"For this recipe, I decided to take the wonderful things that Nagi's offers and pair it with a few of our other IFC producer items to create an entire meal that's easy for anyone to make at home. Bonus, it doesn't require heating up the house with the stove!"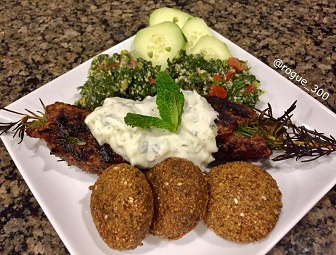 Shopping list:
Lebanese Kofta w/ Yogurt Sauce
Ingredients
*Yogurt sauce:
¾ cup Country View Dairy Greek yogurt
1 medium cucumber (peeled, halved long way, and seeds scooped out)
1 clove garlic, minced
1 tablespoon extra virgin olive oil
¼ teaspoon salt
1/8 teaspoon freshly ground black pepper
1 tablespoon finely chopped fresh mint
*Kofta:
6 TB pine nuts
1/4 small yellow onion, roughly chopped
2 cloves garlic, roughly chopped
½ red bell pepper, seeded and roughly chopped
½ jalapeno pepper, seeds & ribs removed, roughly chopped (can add more if you like things spicier)
¼ cup cilantro leaves
1 pound of ground meat (I used ground lamb from Griffieon Family Farm, which is more traditional – however, if you're not a fan lamb, ground beef is also very good. )
1/8 heaping teaspoon ground cinnamon
1/8 heaping teaspoon ground cardamom
1/8 heaping teaspoon ground cloves
¾ teaspoon salt
1/8 teaspoon white pepper
Rosemary springs for grilling (optional – if you're rosemary plant is going crazy like mine, then this is a great way to impart some extra flavor while pruning your bush. If you don't have an overzealous rosemary bush, then using wooden skewers will work just fine, just make sure you soak the skewers in water for at least 20 minutes.)
Instructions
*For yogurt sauce:
Coarsely grate the cucumber until you have ½ cup of grated cucumber. Using your hands, squeeze as much liquid as possible from the cucumber. Save the remaining cucumber for a salad or slice it to serve as a garnish.
Combine all ingredients in a small bowl. Cover and refrigerate until ready to serve.
*For Kofta:
Place the pine nuts in a dry, nonstick skillet and toast over medium heat, stirring constantly for 3-4 minutes, or until fragrant. Be careful not to burn them. Transfer the pine nuts to a food processor and pulse until finely chopped. Transfer to a medium size bowl.
Add the spices to the same bowl as the pine nuts and stir to mix well.
Place the onion, garlic, bell pepper, jalapeno pepper, and cilantro into the food processor and pulse until vegetables are finely minced, but not pureed. Transfer the vegetables to a fine mesh sieve and use a rubber spatula to remove as much liquid as possible. Alternatively, you can also accomplish this by squeezing it in several layers of cheese cloth, or using your hands. Add the strained vegetables to the same bowl as the pine nuts and mix to combine.
Add the ground meat to the bowl and use your hands to combine it.
Divide the mixture into 5 or 6 even balls. Pat into oblong patties about ¼ – ½ inch thick and then wrap it around the rosemary or wooden skewers.
Grill over medium-high heat for about 4 minutes per side, or until cooked through.
Serve topped with yogurt sauce, with falafel, tabbouleh, hummus, and pita chips on the side for an authentic Lebanese-style meal.