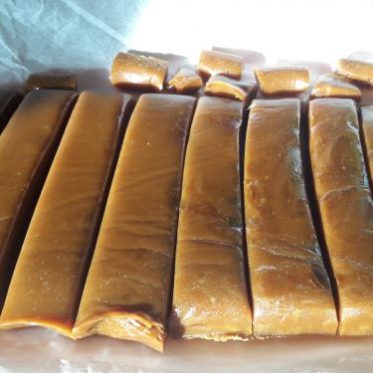 Old Fashioned Sorghum Caramels
Preparation Time 15 min. Cook Time 25 min (or longer depending on your pot & the weather) Cooling: 3+ hours
Ingredients
7

ounces

14 tablespoons unsalted WW Homestead butter (if you use a different butter, stick with something with a high butterfat & lower water content than commercial butter

8

ounces

1 cup plus 2½ tablespoons, packed light brown sugar

¾

cup

Maasdam Mills sorghum syrup

10

ounces

1¼ cups Hansen Dairy heavy cream

Special equipment: candy thermometer & heavy bottom pot preferably enamel on cast iron
Instructions
Line an 8″x8″ pan with parchment paper. Make sure the paper sticks out all around the edges. (This will help you lift the caramels out later.)

In a 5-quart heavy bottomed pot, melt the butter over medium-low heat.

Add the brown sugar, sorghum, and cream and stir together.

Bring this mixture to a boil cooking over medium-low heat, stirring frequently to prevent scorching.

Continue stirring scraping the sides with a silicone spatula to prevent crystals forming on the sides of the pot. Do not rush.

Cook until the mixture reaches 248 degrees (hard ball stage). Cooking further could make the candy too hard.

Pour the caramel into the prepared pan, and allow to cool in an undisturbed area for about 3 hours.

Once set and cooled to room temperature, lift the caramels out of the pan by lifting up the parchment paper edges.

Flip the caramels over on to a clean cutting surface & peel off the parchment paper.

Use a buttered knife to cut into bite size pieces & either wrap in parchment paper or dip in melted chocolate then place in mini cupcake liners for packaging.
Notes
These should keep for several weeks in the refrigerator & months in the freezer.