In the south, we call minute steak 'bucket steak' and it's a regular on the dinner menu. No matter what you call them, you're going to want to give this country steak a try – it's tender, it's extremely easy, and it's perfect for fall, winter, or anytime really.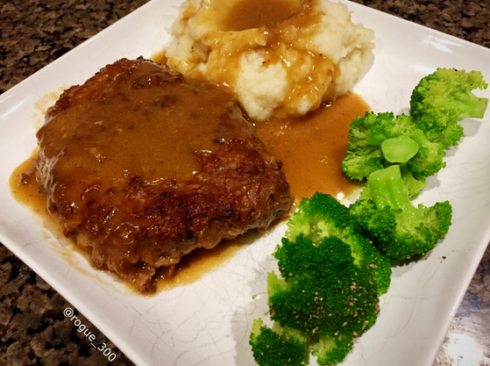 Recipe: Country-Style Minute Steak w/ Pan Gravy
Author:
Ingredients
2 to 4 minute steaks
1 cup all purpose flour
1 tsp ground black pepper
1 tsp seasoned salt
1/4 to 1/2 tsp garlic powder (depending on your preference)
2 cups beef stock
1/2 cup olive oil
Instructions
Preheat oven to 350 degrees. In a shallow bowl, mix flour, black pepper, seasoned salt, and garlic powder together. Set aside 3 TB of the seasoned flour to use in the pan gravy.
Heat olive oil in a skillet over medium heat. Dredge the steaks through the seasoned flour and brown both sides, about 5 minutes per side. Place the steaks, in a 9″ x 13″ baking dish.
Mix the previously set aside seasoned flour into the beef stock and stir until smooth. Pour broth over the steaks, cover the dish tightly with aluminum foil and bake until the meat is tender and gravy has thickened – about 2 hours.
Enjoy with mashed potatoes, vegetables, and buttered bread for a great southern dinner.