Short ribs from Yoke S Ranch are on sale this cycle–put them to good use with this delicious recipe from local foodess + IFC board member, Robin!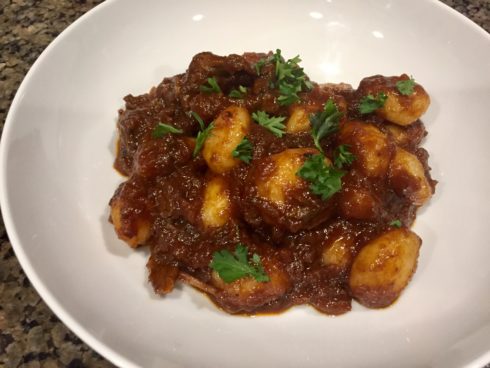 Braised Short Ribs Ragu with Gnocchi
Author:
Ingredients
2-3 lb. bone-in short ribs
2 stalks of celery
2 medium carrots
1 medium onion
1 6 oz. can tomato paste
2 cups dry red wine
3 cups of beef stock
1 bunch fresh sage (about 6 leaves)
3 sprigs of fresh thyme
2 bay leaves
2 cloves of garlic, minced
2 TB chopped parsley
Salt & pepper, to taste
Olive oil
1 package gnocchi
Instructions
Preheat oven to 350 degrees.
Roughly chop celery, carrots, and onion – if you have a food processor, simply toss everything in and hit the pulse/chop button until there are no large chunks. I prefer mine smaller so they cook down.
Season short ribs with salt & pepper – if the ribs are English cut (thick and long, cut them in half). Coat the bottom of a heavy Dutch or French oven with olive oil and heat over medium high heat until the oil is shimmering. Add the short ribs and brown on all sides. Remove the ribs to a plate and drain all but about 1 TB of fat from the pot.
Add the chopped carrots, celery, and onion to the pot, reduce the heat to medium. Cover the pot and cook for 10 minutes. Add in the garlic and tomato paste, cook for 1 minute longer, stirring constantly.
Add the red wine and 2 cups of beef broth, scraping up any browned bits from the bottom of the pot. Bring contents to a boil.
Add the short ribs, bay leaves, sage, and thyme to the pot. Cover and bake in the oven for 1 hour 30 minutes.
Turn the short ribs over, add additional broth if needed, and return to the oven for 1 hour and 30 minutes.
Remove the short ribs from the pot. Remove bones (they'll slide right out at this point) and shred the meat, discarding any large pieces of fat. Discard the bay leaves, sage, and thyme. Return the shredded beef to the pot to keep warm. Taste sauce, adding more salt if needed.
Bring a pot of salted water to a boil and cook gnocchi according to package directions. Drain and toss with the beef mixture.
Serve sprinkled with the fresh parsley. A small amount of shaved parmesan is also a nice addition to the dish, but not necessary since the flavors will stand on their own.