Check out this recipe from our recent cooking demo by IFC board member Robin. Participants loved the dish and its full-flavored simplicity.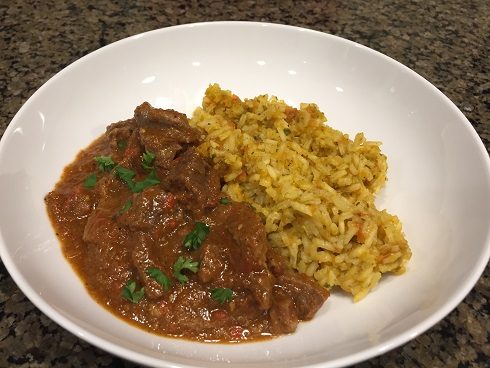 Carne Guisada + Mexican Rice (Delicious, SIMPLE, Local)
Ingredients
1 – 1.5 lbs. beef stew meat or chuck roast, cut into
roughly 1.5" pieces
• 1⁄2 medium onion, cut into quarters
• 1 red bell pepper, cut into large chunks
• 2 tomatoes, cut into quarters
• 3 cloves garlic, minced
• 2 tsp ground cumin
• 1⁄2 tsp dried oregano or 1 1⁄2 tsp fresh chopped oregano
• 1 tsp salt
• 1 tsp ground black pepper
• 1 tsp ancho chile powder
• 1 tsp smoked paprika
• 3⁄4 cup beef stock (can substitute water)
• 1 1⁄2 TB cornstarch
• 2 TB water
• Chopped cilantro for garnish (optional)
Instructions
In a food processor or blender, combine the onion, bell pepper, tomatoes, garlic, cumin,
oregano, salt, black pepper, ancho chile powder, and smoked paprika. Blend until everything is
puréed.
Place the beef cubes into the Instant Pot and pour the vegetable-spice mixture over it.
Use the 3⁄4 cup of beef stock to rinse out the food processor or blender and pour into the pot.
Stir to combine. Seal the Instant Pot.
Cook on the manual setting at high pressure for 20 minutes. When the cooking cycle is
complete, quickly release the pressure.
Set the Instant Pot to sauté mode and bring it to a boil. Boil for 5 – 10 minutes to reduce the
amount of liquid.
Combine the cornstarch with 2 TB of water. Pour into the pot and stir to combine. Allow it to
return to a boil and continue boiling, stirring often, to thicken the sauce to desired consistency.