Sometimes life gets busy and you want something easy for dinner. In about the amount of time it takes to open the box with the talking white glove – you know the one I'm referring to, you can have this healthier version of
chili
mac on the table. You probably already have all the ingredients in your pantry!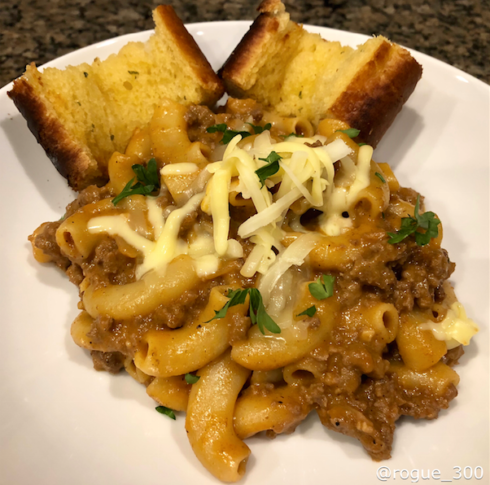 Cheesy Chili Mac
Author:
Ingredients
1 TB oil (canola, vegetable, or olive)
1/2 – 3/4 cup chopped yellow onion
1 TB tomato paste
1 TB chili powder
1 TB cumin
1/8 tsp cayenne pepper (optional)
1/2 tst salt
4 large cloves of garlic, minced
1 TB brown sugar, packed
1 lb of ground beef
2 cups water
1 15 oz. can tomato sauce
2 cups of elbow macaroni
1/4 tsp ground black pepper
4 oz. cheddar cheese, shredded
4 oz. jack cheese, shredded
2 TB fresh parsley, chopped (optional for garnish)
Garlic bread for serving
Instructions
In a large skillet with a lid, add the oil and heat over medium heat until shimmering. Add the onion and tomato paste and cook for 2 minutes. Add the chili powder, cumin, and cayenne pepper (if using). Cook for 3 minutes, stirring often. Add the garlic and brown sugar and cook, stirring constantly, for about 30 seconds. Add the ground beef and brown slightly, breaking it up with a spoon as it cooks, until there is no more pink in the meat.
Add the water, salt, and tomato sauce to the skillet and stir to combine. Stir in the pasta and cover, increasing the heat to medium-high. Cook the mixture, stirring often, and adjusting the heat down to maintain a simmer. Continue to cook for 9 – 11 minutes, or until the pasta is tender.
Remove the skillet from the heat and stir in the cheddar and jack cheeses. Taste for seasoning and add more salt or pepper if necessary. Cover and allow to sit until the cheese is fully melted. Stir again, and serve with chopped parsley (if using) and a slice of garlic bread.