Fall… football… tailgating… and sloppy joes… who's ready?
This easy recipe will have you ditching that can in no time. Taking to a tailgate? You can make this a day or two ahead of time and keep it warm in a crockpot, or warmed on a portable grill or camp stove (use a disposable foil pan for easy clean up!). Want to cook once and eat a few times? Double it, and divide it into freezer bags – it will easily keep for 6+ months.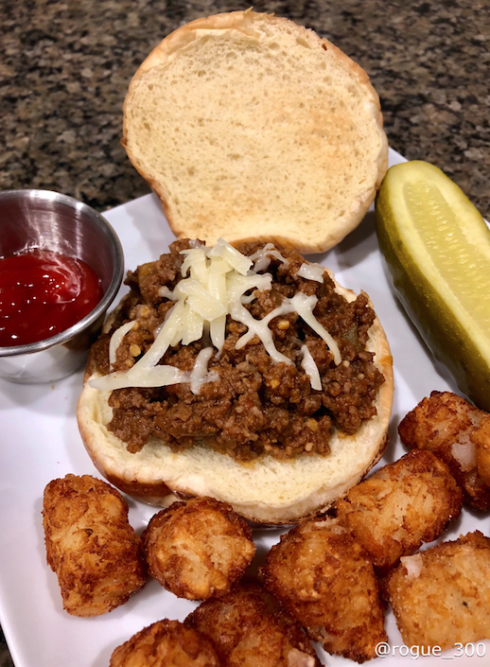 Ditch That Can Sloppy Joes
Author:
Ingredients
1 TB butter
2 lbs lean ground beef (Note: you can substitute ground capon, chicken, turkey, lentil, or a soy meat product)
1/2 cup diced onion
3/4 cup diced green bell pepper
5 cloves garlic, minced
1 1/2 cups ketchup
1 cup water
2 TB brown sugar, packed
2 tsp chili powder
1 tsp dry mustard
1/2 tsp red pepper flakes
2 tsp Worcestershire sauce
3 TB tomato paste
1/4 tsp salt
1/2 tsp ground black pepper
Shredded cheese for serving (optional)
Hamburger buns for serving
Instructions
Add the butter to a large skillet or Dutch oven over medium high heat, followed by the ground beef. Cook until the browned, breaking up any large clumps of meat. Drain the fat and discard.
Add the onions, bell pepper, and garlic. Cook for 5 minutes.
Add ketchup, water, brown sugar, dry mustard, red pepper flakes, Worcestershire sauce, tomato paste, salt, and pepper. Stirring to combine. Reduce heat to a simmer, cover and let cook for 20 minutes. Remove the lid and let reduce for another 5 minutes, or until desired consistency.
Serve on toasted buns, topped with cheese, and your favorite side.
Any leftovers freeze well.