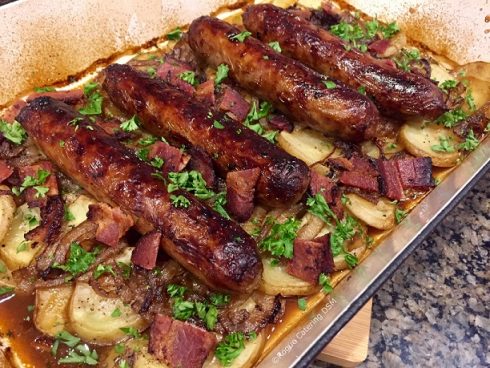 Board member + Local Food Recipe Wizard Robin says, "Want to change it up for St. Patty's day? Why not try a Dublin Coddle? Sausages, bacon, onions, and potatoes–yum!"
Thanks, Robin, for sharing the method + gorgeous photo. Shop for potatoes, onions, bacon, English bangers from Lucky George Farm, and fresh thyme.
Dublin Coddle
Author:
Ingredients
1 ¾ lbs potatoes, sliced into ¼" slices – I used the
4 slices of bacon – Griffieon Family Farm
1 ¼ lbs sausages – I used English bangers from Lucky George, though any bratwurst is fine, too
2 onions, sliced into ½" slices – I used the onions available from the IFC
1 TB fresh thyme, minced
1 ¾ cups chicken broth
2 TB apple cider vinegar
2 TB fresh parsley, minced
Salt & Pepper
Instructions
Preheat oven to 325 degrees. Shingle potato slices in the bottom of a 13" x 9" baking dish and sprinkle with ½ teaspoon salt and ¼ teaspoon pepper. Set aside.
Cook bacon in a 12" skillet over medium heat until crispy, transfer to a paper towel lined plate and set aside.
Add sausages to skillet and brown on all sides, about 5 minutes total time. Transfer to paper towel lined plate and set aside.
Drain all but about 2 TB of grease from skillet and return to medium heat. Add onion slices, thyme, ½ teaspoon salt, and ½ teaspoon pepper. Cover and cook onions until they are softened, about 7 – 9 minutes, stirring occasionally and scraping up any browned bits.
Remove onions and spread evenly on top of potatoes. Return skillet to heat; add broth and vinegar. Bring to a simmer, scraping up browned bits from the bottom of the pan. Allow to simmer for 1 to 2 minutes.
Pour broth over onions and potatoes. Layer sausages on top of the mixture.
Bake in preheated oven from about 1 hour 15 minutes, or until a knife inserted in potatoes meets little resistance.
Remove from oven and allow to cool for 10 minutes. Chop bacon into bite size pieces and sprinkle over the dish, followed by the minced parsley.
Serve with crusty bread and enjoy.