We've got you covered for all your St. Pat's celebrations–this hearty beef stew is the perfect comfort food and can be made with many locally-sourced ingredients available now!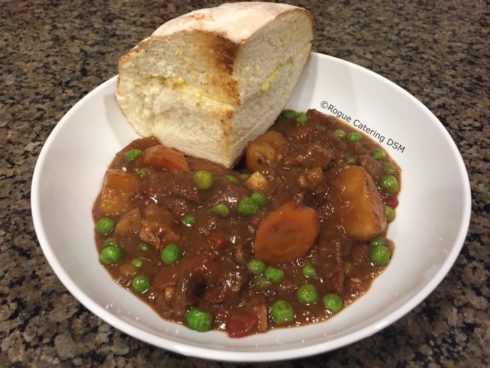 Robin's Irish Stew for St. Patrick's Day!
Author:
Ingredients
1 pound stew meat
1/2 cup all purpose flour
1/2 tsp each – salt and pepper
1 small yellow onion, diced
2 small carrots, diced
8-10 baby yellow potatoes, cut into small chunks
4 ounces mushrooms, quartered
3 garlic cloves, minced
1 can diced tomatoes, drained
3 cups beef broth
3 bay leaves
1 tsp dried thyme
1 can Guinness draught
1 1/2 cup frozen peas
Olive oil for cooking
Instructions
Combine the flour, salt, and pepper in a large zipped bag. Add in the stew meat and shake until the flour is coating the meat. Set aside.
In a large saucepan or Dutch oven, heat one tablespoon of olive oil over medium high heat until hot. Add in the onion, carrots, potatoes, and mushrooms and cook until slightly softened, about 10 minutes. Add in the garlic and cook for 30 seconds or until fragrant. Remove the vegetables to a bowl.
Add the other tablespoon of olive oil and heat until shimmering. Add half of the floured stew meat to the pan and let cook for 2 minutes without moving so it can brown. Then stir it around and let it brown on all sides. Remove it to the same bowl as the vegetables.
Repeat with the remaining meat and any extra flour that's in the bag, adding more oil if needed before browning. Remove the bowl with the other ingredients.
Pour about 1/2 cup of the broth into the pan and scrape up the browned bits on the bottom of the pan. Add in the rest of the broth, the can of tomatoes, cooked veggies, beef, bay leaves, and thyme. Let simmer for an hour and 15 minutes. Be sure to occasionally give it a good stir.
Pour in the can of Guinness and let simmer for another 45 minutes to an hour, or until the meat is tender and the stew has thickened. Don't simmer longer than an hour or you risk the beer turning bitter. During the last 5 minutes, stir in the frozen peas.
Remove the bay leaves and serve hot with a large chunk of bread for dipping (I like the European peasant bread from The Wooden Bakery).