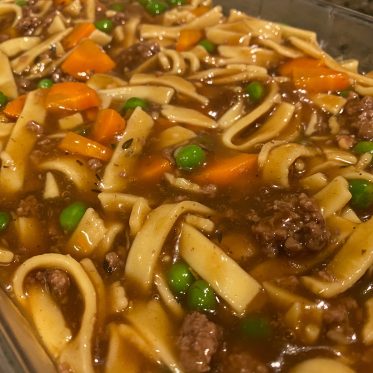 Budget-Stretcher Beef & Noodles
Because eating local doesn't need to mean breaking your budget, I present this super easy beef & noodles recipe using local ingredients. Not only is this budget friendly, but it's flavorful and perfect for these chilly winter days!

Ingredients
IFC Ingredients:
Ground beef: http://bit.ly/GroundBeefIFC

Carrots: http://bit.ly/CarrotsIFC

Onions: http://bit.ly/OnionsIFC

Egg noodles: http://bit.ly/BearCreekIFC

Rosemary: http://bit.ly/DriedHerbsIFC
Ingredients:
1

lb

ground beef

1/4

cup

chopped onion

1

cup

of chopped carrots

1

cup

frozen peas

6

cups

beef broth

1

tsp

dried thyme

1

tsp

dried rosemary

1/2

tsp

garlic powder

1/3

cup

+ 3 TB cornstarch

1/2

cup

water

12

oz

dry egg noodles
Instructions
In a medium size sauce pan over medium heat, bring beef broth to a low boil. In a small bowl, combine cornstarch with 1/2 cup water. Slowly whisk in the cornstarch slurry followed by the thyme, rosemary, garlic powder, salt, and pepper. Reduce heat to low and simmer until the gravy thickens to your desired consistency. Turn off the heat and let the gravy stay warm on the burner.

Bring a large pot of water to a boil, and egg noodles and cook until the noodles are cooked through – this will take about 10 – 13 minutes. Begin testing the noodles at the 10 minute mark. Drain and return to the pot. Stir in the gravy followed by the frozen peas. (Note: there is no need to warm the peas, the heat from the noodles will perfectly cook them from frozen.)

Steam carrots – there are many ways you can do this, I typically opt for the easy way out and put them in a bowl with plastic wrap and microwave for 2 minutes. Stir into the noodles.

Meanwhile, cook the ground beef and onions in a skillet, breaking up the beef, until cooked through. Drain off any grease, and stir into the noodles. Taste and adjust salt and pepper as needed.
Notes
Leftovers can be stored in the refrigerator for up to 4 days, or frozen in an air tight container for up to 3 months.