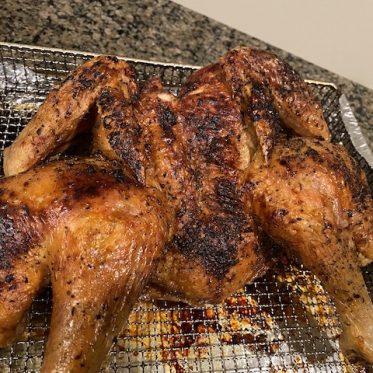 The Bird is The Word–Rotisserie Style Chicken at Home
How many times has someone promised you a juicy baked chicken recipe only to leave you with a dry bird that's reminiscent of the turkey scene from 'National Lampoon's Christmas Vacation?' I super, duper promise this recipe will not leave you needing a vat of gravy to add moisture to your meal. How you ask? Because we're going to spatchcock that bird! By spatchcocking you lessen the roasting time needed to cook your chicken, which means the breast doesn't dry out while waiting for the thighs to cook through. Not only is it an easy technique, but this simple recipe delivers so much flavor that you'll be wanting to put it into your regular menu rotation.
Ingredients
1 3.5 to 5

lb

whole chicken

1/2

tsp

dried oregano

1/2

tsp

dried basil

1 1/2

TB

BRAISED Bone Broth Chaga-Thyme Seasoning

1

tsp

ground black pepper

1

TB

coarse ground salt such as kosher salt

2

TB

olive oil
Instructions
Preheat oven to 425 degrees, or air fryer to 375 degrees.

In a small bowl, combine all seasonings with the olive oil to form a paste. Set aside.

Using sharp kitchen shears, spatchcock the chicken by cutting down both sides of the backbone and removing it. Discard the backbone. Flip the chicken over and press down firmly between the two breasts, flattening the chicken. (See video demonstration below)

Rub the skin side of the chicken with the seasoning paste. Place chicken in the pan or air fryer basket, skin side down.

Roast or air fry for 20 minutes, and then flip it over, cooking for an additional 20 to 25 minutes, or until an instant read thermometer inserted into the thickest part of the breast and thigh registers 165 F. Allow to rest for 10 minutes before serving.
Video
Notes
If you make your own chicken stock, don't throw the back away. Instead, toss it in a bag and into the freezer for use in your next batch of stock or broth.