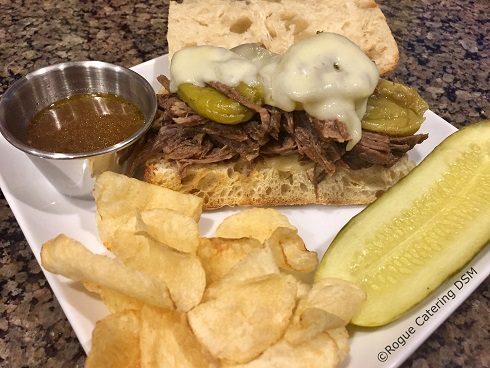 Robin says: "This is one of those crazy good recipes that is so easy that you'll find it making its way into your regular rotation for those busy nights."
Shopping list:
Easy Weeknight Dinner: Italian Beef Sandwiches
Author:
Ingredients
1 2 – 4 lb chuck roast – I used the chuck roast available in the crockpot bundle from Yoke S Ranch
1 10.5 oz can beef consomme
1/4 cup water
3 heaping tablespoons Italian Seasoning
1/2 of a 16 oz jar of pepperoncini peppers (use 1/2 jar of peppers and 1/2 jar of juice)
Sandwich rolls – I use toasted ciabbata, but a good hoagie roll, buttered and toasted also works well
Cheese such as the fresh mozzarella from Lost Lake Farm or provolone
Instructions
Cut the roast to fit in either an Instant Pot pressure cooker or crockpot.
Place the meat in the bottom of the pot.
Sprinkle Italian seasoning over the meat.
Pour in the consomme, water, peppers, and juice.
Cook at low heat in the crockpot for 6 hours or in the Instant Pot for 55 minutes at high pressure, followed by a quick pressure release.
Shred the beef.
Place the shredded beef and peppers on a bun, top with cheese, and place under the broiler to slightly melt the cheese.
Enjoy!