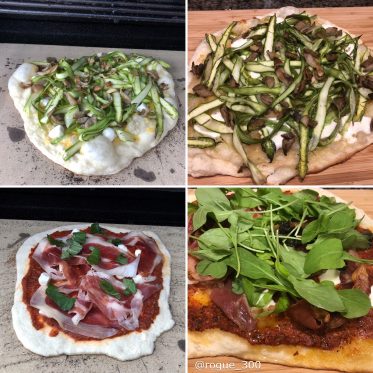 Grilled Pizza
Just because the temperature is rising doesn't mean you have to forgo homemade pizza for carryout or delivery – let's put that grill to work and make some awesome pizzas without heating the house. Have a few friends over, and make a creative (and delicious) night of it – you'll be amazed at the possibilities you can come up with.
Ingredients
Pizza crust dough

Pizza sauce

Flavored olive oil

Fresh greens such as spinach

arugula, or spring mix

Veggies such asparagus

mushrooms,squash, or tomatoes

Fresh basil

Precooked meats such as proscuitto

pepperoni, bacon, sausage, ground beef, or chicken – anything you want!

Semolina flour or corn meal

AP flour

Grated or shredded cheese such as Parmesan Reggiano or melting Italian cheese – for something different

give the Italian seasoned Gouda from Frisian Farms a try!

Suggested special equipment:

Pizza stone

Pizza peel
Instructions
Place pizza stone on the grill (gas or charcoal) and allow to preheat to the hottest setting possible, for at least 30 minutes, keeping the lid closed. Preheating the stone gives the crust that nice crunch on the outside, just like from your favorite pizzeria.

On a lightly flour dusted surface, roll out pizza crust for a thin crust pizza – I typically get 3 crusts about 12″ in diameter from one prepared pizza crust.

Sprinkle a pizza peel or large, unrimmed sheet pan with semolina flour or corn meal. Give it a little shake to make sure the crust can slide. If it doesn't, gently lift it up and add more semolina or corn meal to the problem areas. This guarantees your crust will slide off the transport device and onto the pizza stone.

Thinly spread the crust with pizza sauce, olive oil, or your other favorite sauce. Top with your favorite toppings (pictured is one vegetarian pie with olive oil, shaved asparagus, oyster mushrooms, and grated Reggiano cheese; and a meat pie with prosciutto, tomato sauce, fresh basil, and fresh mozzarella, then topped with handfuls of arugula after cooking). When grilling pizza, less is more on the toppings – if you overload the toppings, the bottom will burn before the toppings cook.

Transfer your pizza, to the pizza stone, close the lid, and allow to cook until the dough is cooked through and the cheese is melted – with a 600 degree grill, this typically takes about 6 or 7 minutes. Check on the pizza at about the 5 minute mark.

Remove from the grill, allow to cool for a couple of minutes, and enjoy!
Notes
Once you start grilling pizza at home, your possibilities of flavor options are virtually endless – the sky is the limit, so let your imagination run wild. You can even make dessert pizzas, breakfast pizzas, BBQ pizza is a great way to use up leftover pulled pork or chicken – nearly anything.