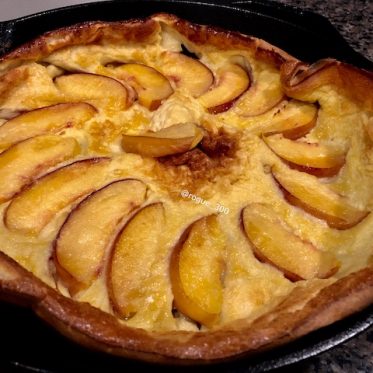 Peach Dutch Baby Pancake
A Dutch (or Deutsch as it was originally called by the Germans) baby pancake is not really a pancake in the sense that we Americans think of them – no pesky flipping and having it splatter or break. They're a puffy, oven baked, thin cake that's cooked in either a cast iron skillet (traditional and highly recommended) or a 9" x 13" casserole dish. This makes an amazing brunch, afternoon snack, or even dessert since it's slightly sweet. 


Want to switch it up even more? Once it's cooked, toss on a handful of fresh blueberries before serving!

Ingredients available at IFC:
Eggs,
Whole milk or heavy cream,
All-Purpose flour,
Butter,
Peaches,
Blueberries, Maple syrup or honey for serving

Ingredients
3

large or extra large eggs

or 2 jumbo

1/2

cup

whole milk or heavy cream

3

TB

butter

1/2

cup

all-purpose flour

1/2

tsp

salt

1/4

tsp

baking powder

2

tsp

vanilla extract

1/8

tsp

ground cinnamon

Honey

maple syrup, blueberries, powdered sugar, or whipped cream for serving
Instructions
Preheat oven to 425 degrees. Add the butter to the cast iron skillet or casserole dish and place in the oven for a few minutes to melt the butter – careful not to let it brown.

While the oven is preheating, in a large bowl, blend the eggs, milk (or cream), and vanilla together. Add the flour, salt, baking powder, and cinnamon. Stir to blend. Swirl the melted butter around the pan to coat all sides, and pour the excess into the pancake mixture.

Thinly slice the peaches. Give the batter a final stir and pour into your buttered pan. Arrange peach slices on top.

Bake at 425 for 15 minutes, and then lower heat to 325 for another 5 to 10 minutes, or until the pancake is completely cooked and golden brown on the edges.
Notes
Slice and serve immediately with additional butter, honey, maple syrup, powdered sugar, or whipped cream. You can also add fresh blueberries for extra burst of summer flavors.