Another recipe from board member + local food wizard, Robin!
She says, "Shanen Ebersole asked me to create something that was a quick & easy weeknight kind of dinner using a pound of her new ground beef. So, I came up with Mexi Mac, which was perfect since I'm having a crazy, busy week."
For this recipe you'll need ground beef, cheese, salsa, and pasta, which are all available now!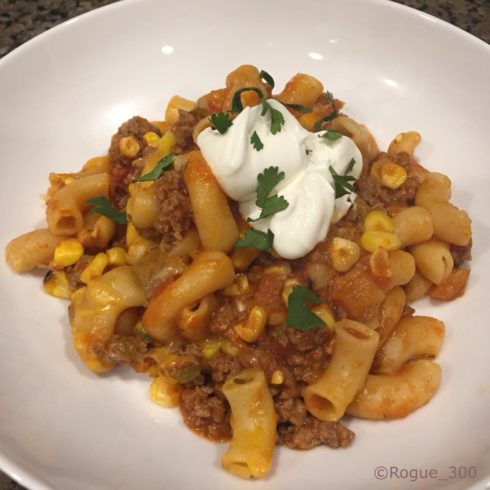 Mexi-Mac
Author:
Ingredients
1 lb. ground beef – I used beef from Ebersole Cattle Co.
· 2 cups salsa – you decide how hot you want to go
· 1 15 oz. can tomato sauce
· 1 15.5 oz. can of corn, drained or 1 ½ cups frozen corn
· 2 cups elbow pasta
· 1 ½ cups water
· ½ cup shredded sharp cheddar or Mexican blend cheese
· Sour cream (optional)
· Fresh cilantro, chopped (optional)
Instructions
In a large skillet over medium-high heat, brown the ground beef until cooked through. Drain any grease.
Add salsa, tomato sauce, and water to the skillet. Bring to a boil. Add pasta and corn. Return to a boil, then cover and reduce the heat to a simmer. Simmer for 20 minutes, stirring occasionally.
When the pasta is cooked, turn off the heat, sprinkle with cheese, recover and allow cheese to melt.
Serve with sour cream and cilantro.