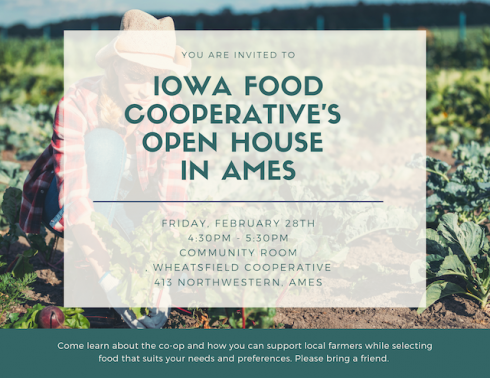 The Iowa Food Cooperative is excited to announce our open house on February 28th from 4:30-5:30P in the community room at Wheatsfield Cooperative! We will have local food samples and a raffle for a $25 Iowa Food Cooperative gift certificate. We look forward to seeing you. Help us spread the word and share our event.
What is the Iowa Food Cooperative?
-We are a dedicated group that facilitates connections between Iowa producers of food and Iowa consumers of food (You!).
-We care about the local food community and building relationships between farmers and consumers. We believe it is important to understand how the food that nourishes you is produced. The cooperative supports farmers who use sustainable practices in order to improve our water and soil quality along with supporting ecosystems for our pollinators.
How does the Iowa Food Cooperative work?
-The co-op operates a year-round online farmers' market. Our members (we have a 6 month free trial membership) place orders online every two weeks; our producers deliver the goods to our main site in Des Moines. From there our volunteers sort orders and pack the goods to go out to our satellite locations. Ames customers pick up their order on Fridays from 4:30-5:30P at Wheatsfield Grocery.
Visit our open house to sign-up + learn more about what makes the Iowa Food Cooperative the best source for local food.